Dental Implants Treatment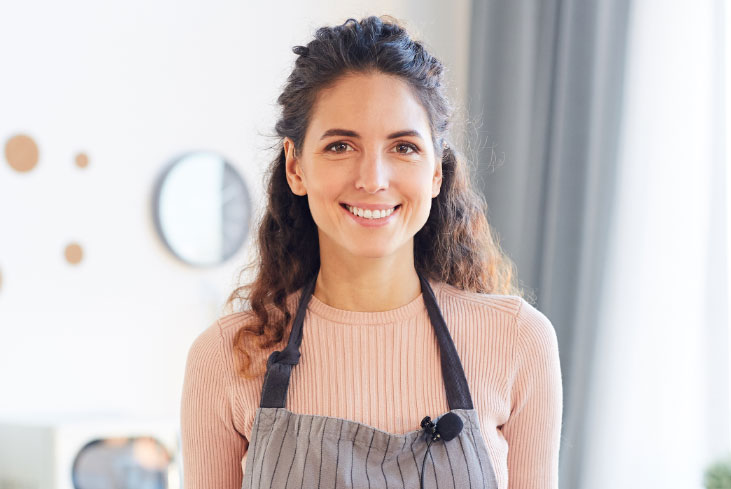 The loss of a tooth can be a very irritating and a source of discomfort for many, and it is essential to treat these cases with caution and never neglect them. So, if you have one missing or damaged tooth or more, you can resort to a branch of restorative dentistry which is dental implants. Let us find out more about this service which GYA Dental Center offers for you.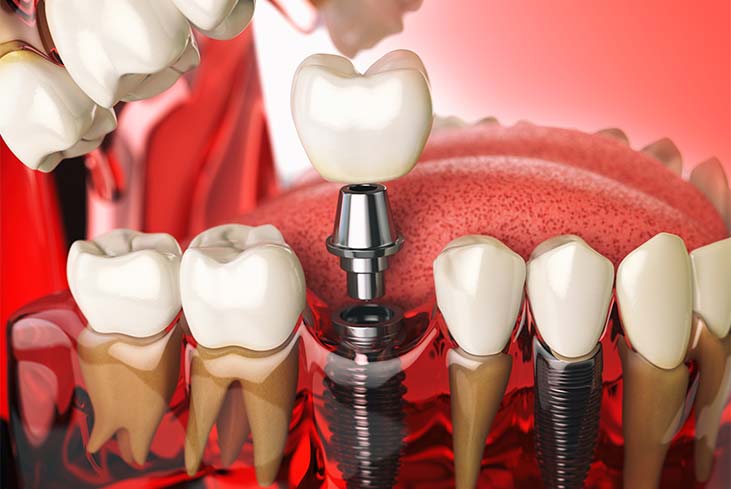 What You Need to Know Before Dental Implants Treatment Starts?
What are Dental Implants?
Dental implants are safe and effective replacement for lost or damaged teeth, they are made to blend well with the rest of the teeth to give a natural healthy look. The loss of teeth can make people self-conscious when talking, eating, or smiling, it doesn't stop there, because losing teeth will cause biting irregularities, this might lead to having eating habits' issues and probably malnutrition.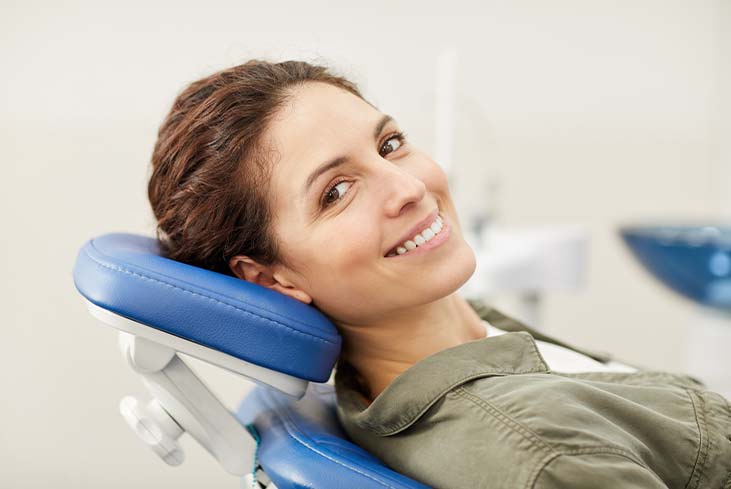 What are the Pros and Cons of Dental Implants?
The Pros of Dental Implants:
Dental implants help preventing jaw bone loss, because losing a tooth or more will expose the jawbone and make it prone to decay in the height or to cause the bone to resorb.
The look of dental implants is aesthetically amazing, because it merges with the rest of the teeth and looks natural.
These surgical replacements are highly durable, and may last a lifetime if you take proper care of your implants.
If compared with other restorative procedures, dental implants offer a brilliant solution because it does not damage other health teeth around the newly placed implant.
Because dental implants are titanium-made and super fixed in the jaw, they will not cause any complications with eating or talking.
Increased self-confidence is guaranteed after restoring the lost teeth, because the treatment will give you so much freedom to continue your plans and activities with no anxiety or embarrassment.
The Cons of Dental Implants:
It is possible that the treated area will be infected, but it can be prevented and/or treated by following the proper cleaning, and after-surgery treatment instructions.
The newly placed implants can take up to six months to fully fuse with the jawbone and into the insertion place, so, dental implants might not be your procedure of choice if you need a quick solution.
This procedure might be more costly than some other restorative option, but the results last much longer when maintained properly.
Other procedures might be required in some cases before the completion of the dental implants process, this is applicable to patients with conditions such as jawbone loss, or the lack of jawbone mass generally, which will require grafting in order to have enough mass that can support the implants.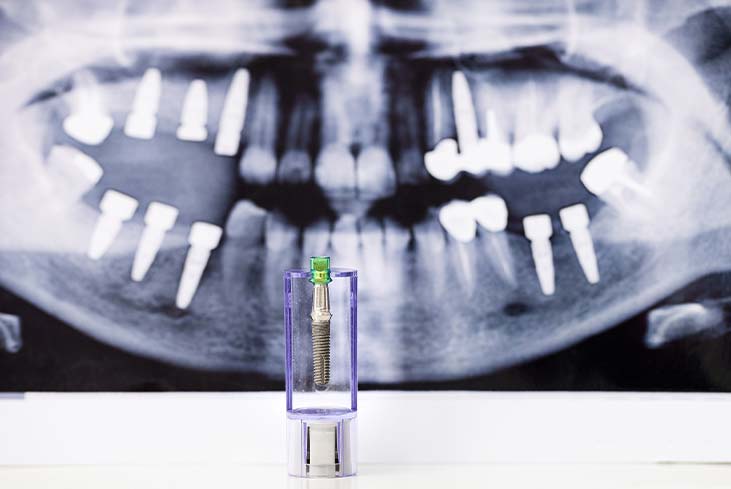 Am I a Candidate for Dental Implants Procedure?
Dentists look for several factors that make you a good candidate for dental implants, which include:
Having healthy gums that are not suffering from any type of gum disease.
The proper amount of jawbone mass and its health determine whether it will receive the new implants well or not.
A patient for maintains a good regimen of oral hygiene on daily basis is a better candidate for this procedure than a patient who has irregular dental hygiene routine.
If you are a non-smoker.
What Steps to Follow Before Dental Implants Procedure?
Before starting the procedure of having dental implants, it is very important to know that there are some few dos and don'ts regarding your routine and habits.
One step is to stop any alcohol intake and cigarette smoking few weeks prior to the treatment, because both nicotine and alcohol will slow down and weaken the healing process, also there are few other substances and medications that have the same effect of slowing down the healing process, and should be stopped for few weeks as well if they are taken before the surgery, these medications include ibuprofen, vitamins such as A and E, aspirin, and a consultation by your dentist is necessary to keep them informed in case there are any other medications in use that you need to stop taking before the procedure is done.
What You Need to Know During Dental Implants Treatment?
What Does Dental Implants Treatment Involve?
Before the treatment starts, a team of restorative dentistry specialists will study your case and condition in order to draw a full plan especially for you, that will be the best suitable for your needs.
The first step of the procedure will start by drilling a hole in the place of the lost tooth, this depends on the CT scans taken before the procedure that will determine the exact spot and sizing of the jawbone, after drilling is completed in the desired site, the next step is to use the titanium screw and crown and place it in the drilled spot gradually, then, the dentist will secure the gum tissue surrounding the implant.
The process of Osseo integration is what determines if the treatment is successful or not. After the treatment is done, this process would take between 6 weeks and up to 6 months for completion, and is considered to be successful if the implant is anchored to the jawbone that it's placed onto, so the implant becomes integrated as if it is naturally part of your teeth, and is no longer distinguishable as artificial looking.
The final stage is attaching the abutment, it can be either placed during the first stage of the treatment, or after the needed weeks or months of full recovery, by uncovering the dental implant and placing an abutment, then the crown will be made for the gum and the surrounding tissue to grow and take on the natural shape.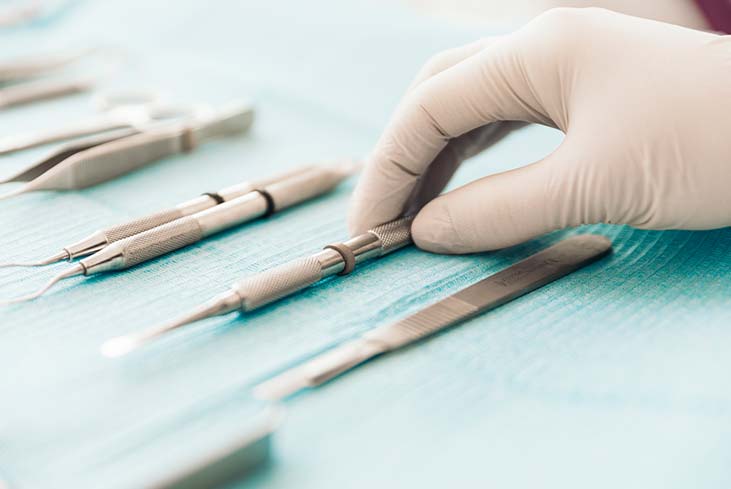 What You Need to Know After Dental Implants Treatment Finished?
What are the Post-Op Dental Implants Recovery Steps?
After the completion of the procedure, you can expect minor bleeding, swelling, pain and discomfort in the treated area, and so, your dentist will prescribe the proper medications to alleviate the pain and swelling. You can ease the swelling by placing few ice packs onto the treated area too.
Eating soft and pureed foods, limiting heavy physical activity, and dental hygiene maintenance routine are all necessary after the treatment.
Consult your dentist if any complications occur, and if the swelling or bleeding continue or increasing few more days after the possible given duration by your dentist.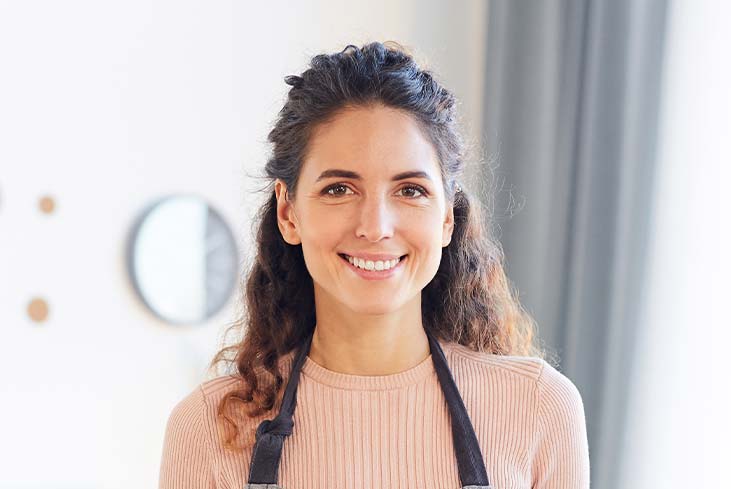 Conclusion
Getting dental implants is an effective and highly durable option for the cases of damaged and lost teeth, it is important to consult your dentist to know better about your own case, and what treatment is best suited for you.
2 min Read | Updated January 01, 2022
Written by Dr. Gabriella Aftene

Dr. Gabreilla started her career at the University of N. Testimiteanu Medicine and Pharmacy, she went on to continue her studies at the University of Carol Davila Medicine and Pharmacy. She continued her education in Germany Frankfurt, Italy Genoa, Spain Seville, Portugal Lisbon and France Lyon.
Topics: Dental Implants
Our aim of this article is to spread awareness about general oral health, We do not consider all the information and the advice presented a substitute for consulting your dentist. Therefore, We would like to invite you to visit GYA Dental Center to know more about dental treatments, we will be happy to provide the best consultation regarding your case.