Zoom Teeth Whitening Treatment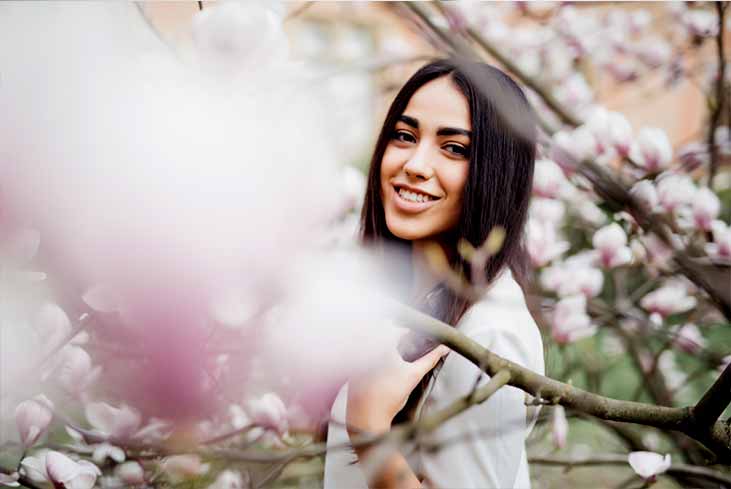 Zoom Teeth Whitening in Dubai
Are you looking for immediate teeth whitening results? Or do you prefer getting the perfect color and shine for your teeth at home? The two flexible and guaranteed options are available, with the new technology of the Zoom! In-office and the Zoom! At-home teeth whitening treatments.
What Is Zoom! In-office Teeth Whitening?
The Zoom! In-office treatment offers patients quick and effective teeth whitening, for up to eight shades lighter teeth color. It is a simple and relatively short process that involves adding hydrogen-peroxide-based gel to your teeth, which enters the enamel to fix any discoloration and lift the stains off your teeth with the special Zoom laser, that acts as an activator for the whitening gel.
This procedure is safe for the teeth structure; it takes up to an hour, and usually three sessions to reach the full results. The in-office Zoom! Teeth whitening is anxiety-free and smooth; you can listen to music or watch television during the treatment, as it is painless and causes no stress.
What Is Zoom! At-home Teeth Whitening?
The Zoom! At-home treatment is a safe and effective treatment, done at your convenience, to whiten your teeth color for up to six shades, it takes between four and seven hours of applying the Zoom! The whitening gel in the custom-made tray consistently for as long as your dentist will recommend.
How Safe is Zoom Teeth Whitening in Dubai?
This process is entirely safe and is highly recommended for its guaranteed results. Still, it is essential to consult your dentist if you have sensitive teeth or other gum irritation issues.
The possible side-effect of the treatment is sensitivity during and after the treatment. You will be given a special gel to protect your teeth against sensitivity after the procedure.
This treatment is not recommended for pregnant or nursing women and children under 16.
How Much Does It Cost?
The cost of  Zoom Teeth Whitening in Dubai, whether done in-office or at-home, depends on several factors. One is your teeth' color before the treatment; this includes how badly stained they are and the exact shade because it will determine how many sessions you will need.
Another is your teeth' condition before the treatment, as many people might need removal or plaque or professional dental cleaning. Some might need to finish up other treatments before they could start the actual procedure.
In addition to that, the cost might include the post-treatment anti-sensitivity gel that your dentist will give you or the special toothpaste to use after opting for the Zoom! Teeth whitening.
Zoom! Treatment Maintenance Tips.
Whitening toothpaste or custom-made trays might be recommended for you after the treatment; this depends on how your teeth respond to the treatment, and if you need some tweaks, which your dentists can assess.
Do not randomly choose your post-treatment protective gel and toothpaste, and make sure you stick to your dentist's recommendations.
Follow the regular dental hygiene routine of brushing twice a day and flossing.
Your teeth will be most susceptible to discoloration and staining right after the process, so try to make your consumption of sugary drinks, coffee, wine, and tea minimal and avoid colored foods.
2 min Read | Updated  August 19, 2023  
Written by Dr. Gabriella Aftene

Dr. Gabreilla started her career at the University of N. Testimiteanu Medicine and Pharmacy, she went on to continue her studies at the University of Carol Davila Medicine and Pharmacy. She continued her education in Germany Frankfurt, Italy Genoa, Spain Seville, Portugal Lisbon and France Lyon.
Topics: Teeth Whitening
The Ultimate Guide Teeth Whitening
Our aim of this article is to spread awareness about general oral health, We do not consider all the information and the advice presented a substitute for consulting your dentist. Therefore, We would like to invite you to visit GYA Dental Center to know more about dental treatments, we will be happy to provide the best consultation regarding your case.