Hollywood Smile Treatment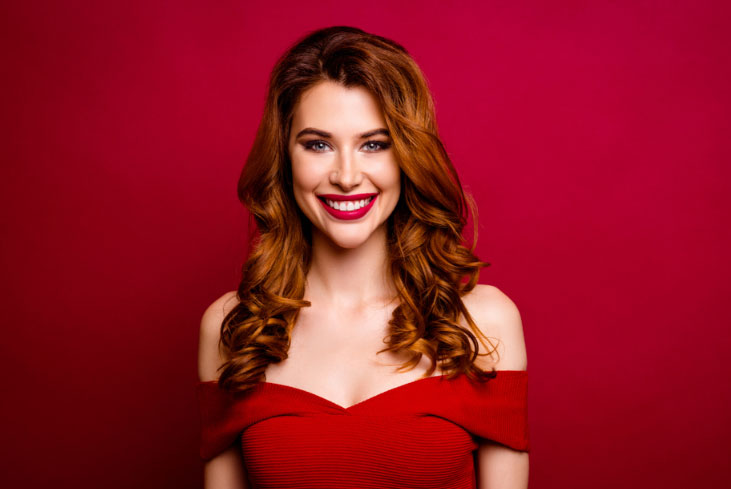 Hollywood Smile Dental Clinic in Dubai
Introducing the Smile of Your Dreams
You are one step away from having the smile of your dreams with GYA Dental Center, the best Hollywood Smile Dental Clinic in Dubai. Because you deserve red-carpet-ready teeth, we introduce you this modern and fast option to drastically improve the look of your smile, and Who doesn't love a life-changing smile makeover?
The Hollywood Smile procedure is planned differently for each patient depending on the changes they need and want to make to their smiles.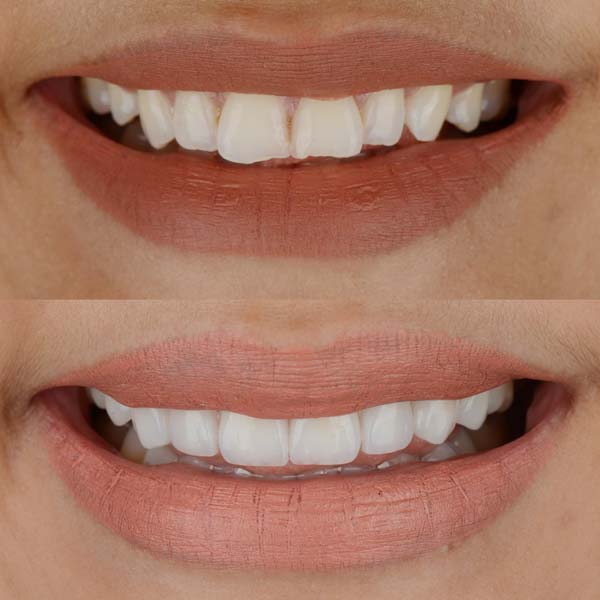 Why Choose a Hollywood Smile Makeover?
If you happen to have chipped or broken teeth, gaps, misaligned and uneven teeth, have severe staining issues that cannot be fixed by regular teeth whitening methods, you have reached the right destination! Because for all of these issues and dental conditions there is an aesthetically wonderful, highly durable, stain-resistant type of treatment called "dental veneers", this procedure will leave you with the most flawless and natural looking teeth, and it only takes two or three visits to our clinic.
A Hollywood smile makeover will create a custom-made smile for each individual who wants to perfect and quick-fix the appearance of their teeth, this means that it will:
Fix a variety of dental issues all at once.
Give an overall better shape and alignment for the teeth.
Close any gaps between the teeth.
Correct any discoloration by giving patients the shiny Hollywood color through dental veneers.
So, What are Dental Veneers?
Dental Veneers are simply thin wafers made out of different materials such as porcelain, this cosmetic procedure aims at improving the appearance of a smile, they are permanent and made from a bright white durable material in specialized laboratories, porcelain veneers cover the natural teeth to give you a better shape, color, and alignment, and look just as real. The treatment can be for one tooth and up to twenty teeth depending on each patient's individual needs.
Your dentist will choose for you one of these three types of dental veneers, which are:
The conventional Porcelain veneers, which require minimally invasive tooth substance removal.
Dental lumineers, that are also called "non-prep" as they take less preparation time than traditional veneers, lumineers are ultra-thin wafers.
The instant Dental Veneers, also called veneers-to-go are another alternative to Porcelain veneers, made of tooth-colored resin.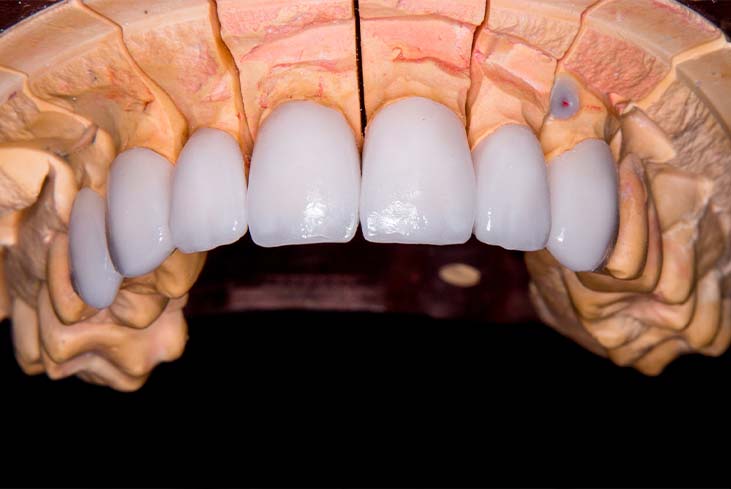 What Steps Does Hollywood Smile Treatment Involve?
Before Starting Hollywood Smile Treatment:
Before starting the actual treatment, some few steps must be made. Your first dental visit would be a consultation to examine the state of your teeth, gums, and jaw. If you have some existing issues that need treatment that isn't cosmetic or aesthetically direct, your dentist will take care of that, and work on getting rid of all possible dental problems like infections, or gum disease, it is important as well that the tooth roots are in good condition, which can be detected through the x-ray done before the treatment.
During Hollywood Smile Treatment:
If you are good to go, and have no obstacles that would delay the Hollywood smile procedure, the dentist will take an impression of your teeth, these impressions will be sent to specialized laboratories and they will determine the shape, size, and positioning of the veneers designed for you, nevertheless, it might take up to two weeks to receive your custom-designed veneers from the laboratory.
The step that follows is that you will test the look of the dental veneers as the dentist will attach them by using a temporary adhesive, if you like the result, the dentist will work to remove a thin layer not exceeding half a millimeter, and then permanently install the Dental Veneers on the teeth with a special adhesive. To solidify the attachment of the veneers, a beam of light will be directed towards the new veneers, which will make the materials work more quickly and strengthen the positioning of the veneers.
After Hollywood Smile Treatment:
It is best to schedule a follow-up appointment with your dentist, so you can go through all the details concerning your new Hollywood smile, this would include the response of your gums, teeth root to the new veneers and their final look.
Taking care of your Hollywood smile is necessary, a little extra care would be better because you want to maintain the awesome results for as long as possible, which is nearly 10 to 12 years of having great looking veneers.
To keep these extra shiny whites in a good state brush and floss regularly, avoid foods that contain highly staining components such as artificial sugary drinks, avoid excessive consumption of coffee, tea and wine as they change the pigmentation of the teeth, and don't skip your regular dentist visit.
Conclusion
A Hollywood smile makeover is not exclusive for those who spent most of their time working in front of lights and cameras, it is for anyone who wants to be a star in their own terms, and every single day. A consultation from our dental specialists will help you know if you are a candidate and to know more about the treatment.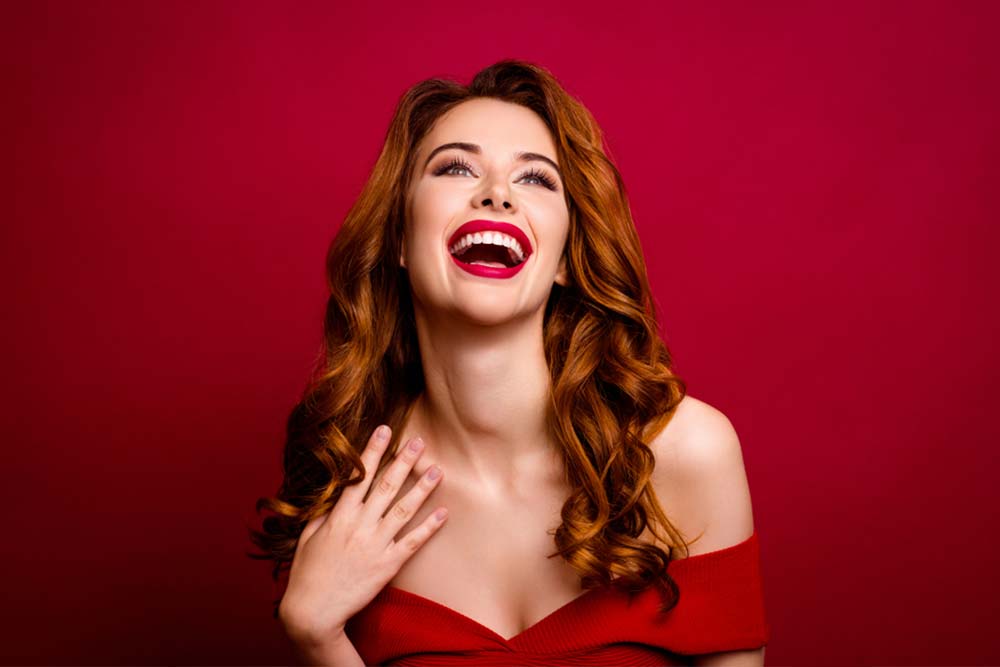 Contact us
We will be delighted to introduce you the best Hollywood Smile Dental Clinic in town, book your appointment to get your Hollywood smile at GYA Dental Center now.
4 min Read | Updated August 19, 2023  
Written by Dr. Gabriella Aftene
Dr. Gabreilla started her career at the University of N. Testimiteanu Medicine and Pharmacy, she went on to continue her studies at the University of Carol Davila Medicine and Pharmacy. She continued her education in Germany Frankfurt, Italy Genoa, Spain Seville, Portugal Lisbon and France Lyon.
Topics: Hollywood Smile
Our aim of this article is to spread awareness about general oral health, We do not consider all the information and the advice presented a substitute for consulting your dentist. Therefore, We would like to invite you to visit GYA Dental Center to know more about dental treatments, we will be happy to provide the best consultation regarding your case.